Since the dawn of civilization, mankind has been the pioneer of great innovations in different aspects of life. From generation to generation, people have come up with a plethora of inventions and wonders for the betterment of humanity to make our lives more sustainable and efficient. However, apart from all of those achievements and glory, humans are still attached to that one place, the so-called "home". Throughout the history of ancient times till now, human beings, with their urge for survival, are always trying to build something that gives them a sense of security and comfort. Therefore, building houses and such infrastructure for mankind's survival has not only been necessary but is the greatest achievement one can be aware of.
Such a pioneering movement of building houses has only been possible because of the discovery and use of concrete. It is not far-fetched to say that concrete has been the vital material for constructing any form of infrastructure throughout different millennia. One of the reasons that makes it so important in building construction is its flexibility. Aside from that, concrete provides sustainable, long-lasting, strong foundational support for any construction endeavor. Hence, there's a saying – 
"The imperial vastness of late Roman architecture was made possible by the invention of concrete."
In this modern age of civilization, the development of construction technology and its approaches have vastly improved. And this led to the introduction of a new way of manufacturing concrete that can be easily employed in any construction job. Ready-mixed concrete or ready-made concrete is one such attempt that has impacted the construction community in the 19th century around the world. The concept of RMC, or ready-mixed concrete, was first proposed by the German architect Jurgen Heinrich Magens in 1907. Through his experiment, he concluded that vibrating and cooling fresh concrete can increase the time required to transport mixed concrete to the desired location.
Therefore, the applications of ready-made concrete have exponentially increased over the traditional on-site concrete mix in most construction projects today due to its versatile and flexible use in the industry. Because traditional on-site concrete mix requires constant monitoring of the mixing process as well as maintaining a balanced ratio of all essential ingredients in the mixer, in addition to that, there's an issue with the space management for storing all the ingredients at the construction site, which adds an extra hassle to the whole construction process. 
As opposed to the traditional concrete mix, readymix concrete consists of more dynamic features and properties that allow consumers to easily buy and transport the mixed concrete to the construction site without any worries of constant monitoring. Unlike conventional concrete mix, ready-made cement carefully maintains the ratio of all essential components, making it the most stable, durable, and versatile concrete. Hence, it's not a far cry to say that ready-mixed concrete is now the first choice for any modern construction developer or general customer altogether.
Types of Ready Mixed Concrete (RMC)
Upon receiving popularity, the applications of ready-made concrete have significantly diversified in the construction industry. Consequently, different manufacturing companies are coming up with different types of ready-made concrete production processes based on specific mixing protocols of ingredients. Now, such added improvements of RMC bring more flexibility to its application in different development projects. Moreover, companies like Mir Ready Mix Concrete and others in Bangladesh are also developing and providing various types of ready-mixed concrete that align with the interests of their clients and construction projects.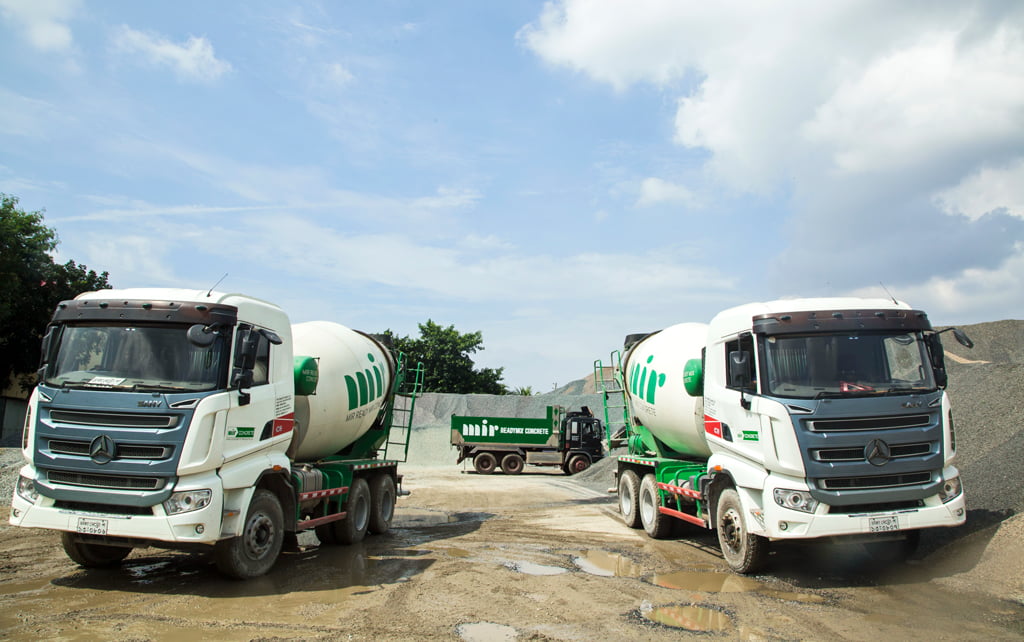 Currently, the demand for ready-mixed concrete is skyrocketing because of the freedom of choosing the suitable ready-made concrete for customers' needs, which makes it more reasonable for customers to opt for RMC products. To meet the demand, Mir Ready Mix offers several categories of pre-mixed concrete exclusively manufactured for specific types of construction projects. 
Generally, there are three types of ready-mixed concrete (RMC) available globally, produced by most concrete manufacturing companies. The different design protocols for mixing all primary components result in these three types of RMC. 
Transit Mixed Concrete

Shrink Mixed Concrete

Central Mixed Concrete
1. Transit Mixed Concrete
One of the common ready-made concrete types is transit-mixed concrete, which is often interchangeably called dry-batched concrete. In general, major construction companies provide this type of ready-mixed concrete to their consumers who are likely to be interested in small-scale to large-scale construction projects. However, transit ready-mixed concrete comes in handy especially, when it comes to delivering the mixture to long distances.
It is often referred to as dry-batched concrete simply because the basic dry components of concrete, such as cement, aggregates (gravel, crushed stone, sand, etc.), and water are directly loaded into the transit mixer drum. And the transit mixer drum is mounted on a truck where it rotates fast enough at charging speed during the loading of the ingredients. Afterward, the rotation speed gradually slows down and reaches an average agitating speed. It is important to note that the transit mixer used in transit-mixed concrete production is highly effective since it ensures the concrete stays liquid throughout the transportation period. Hence, such a type of RMC allows us to deliver concrete to various locations, especially remote areas.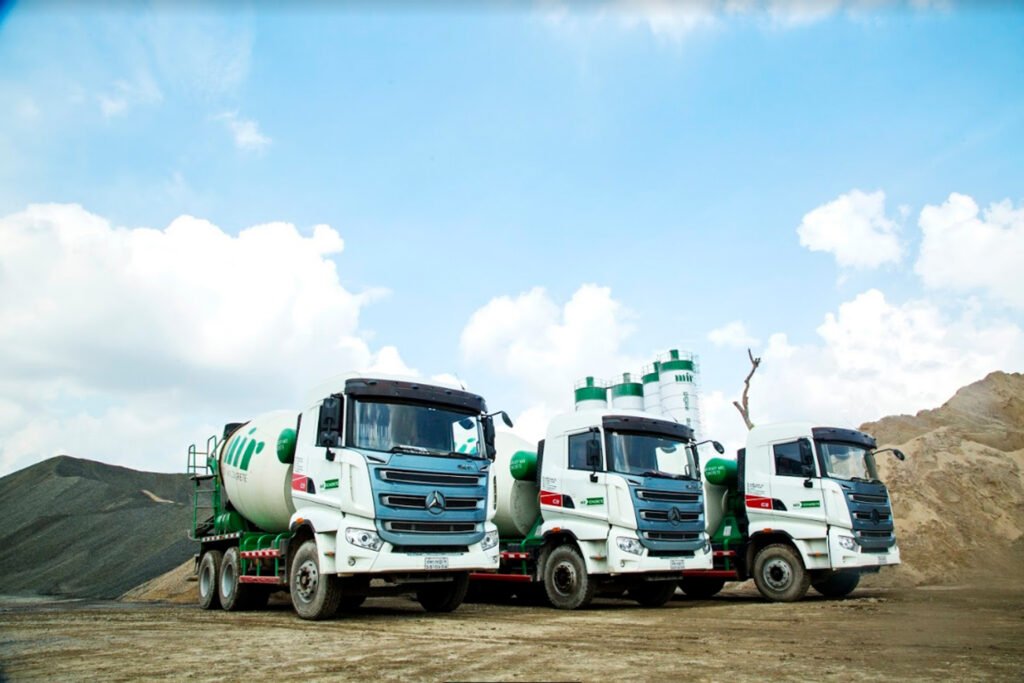 On the contrary, there are three types of transit-mixed concrete variations possible, depending on the nature of the mixing protocols.
These are: (a) mixed concrete at the job site, (b) mixed concrete in transit, and (c) mixed concrete in the yard.
(a) Mixed concrete at the job site
Based on the necessary criteria of clients and the desired mixing protocol for the construction project, this type of transit ready-mixed concrete comes in quite handy when it comes to covering long-distance transportation periods. While being on transit to the worksite, the process involves the constant rotation of the drum mixer mounted on the truck at a slow, agitating speed of 2 rpm or rotations per minute. Upon arriving at the site, the mixer revolves around 70 to 100 times at the rate of 12 to 15 rpm. Ensure that all the ingredients are mixed smoothly before discharging, even though this variation of transit ready-mixed is favorable for long-distance coverage. However, due to recent advancements in admixture techniques, this method falls short compared to its other counterparts.
(b) Mixed concrete in transit
This variant of transit mixed concrete is pretty much self-explanatory. As its name suggests, the drum mixer keeps rotating at a medium speed of 8 rpm for about 70 revolutions during its transit period. After that, the rotation slows down to an average agitation speed of 2 rpm until it is time for discharging at the construction site. This method stands out from other types of transit mix simply because it is cost-effective. Meaning it saves fuel and components of the drum mixer and avoids excessive concrete mixing.
(c) Mixed concrete in the yard
One of the most common methods that produce mixed concrete at the transit mix plant, where the mix of concrete materials is done by rotating the drum at the speed of 12 to 15 rpm for 50 revolutions. After completing the mixing in the yard, the rotation speed slows down to an agitation speed of 2 rpm while on the way to the construction site. It is fascinating to look into what makes this type of ready cement outstanding compared to others. It allows operators and experts to monitor the slump and airflow of the batch constantly, which ensures the quality and ideal standard of the mixed concrete before reaching the construction site.
It is evident that transit-mixed concrete is considered to be the most common and widely accepted RMC among other types. Because of its wide range and flexibility to meet the consumers' needs, the demand and supply for such mixed concrete are growing significantly. Companies like Mir ReadyMix and others focus more on fine-tuning and improving truck-mixed concrete to meet customers' demands. And successfully, the growth of the concrete market is exponentially rising. It is estimated that truck-mixed concrete and its related mixer technology are predicted to climb at a CAGR of 4.5% by 2022. Moreover, current global market analysis from various sources indicates that future trends of transit RMC look promising.
2. Shrink Mixed Concrete
It is a highly durable and long-lasting readymix concrete and is considered helpful for maximizing a truck's loading capacity. As concrete materials are partially mixed at the stationary mixer plant, this tends to shrink the volume of the concrete mixture. As a result, a high volume of concrete can be transported to the worksite. In short, this type of ready-made concrete is produced from partial mixing of raw materials in the central mixer plant. In contrast, the rest of the balanced mixing process is generally carried out in the truck-mounted drum mixer during the transit period. Usually, around 30 turns of drum mixer, or about 90 seconds of rotation speed, is good enough to complete the shrink mixing process of concrete.
In most cases, how much mixing is needed in the transit mixer depends upon how much mixing was carried out in the central mixing plant. To establish the amount of required mixing in the drum, the best practice would be to conduct uniformity tests before discharging the concrete mix at the construction site. Therefore, it assures the complete uniformity and smoothness of the mixed concrete.
3. Central Mixed Concrete
Central-mixed concrete is often referred to as a central batching plant concrete or sometimes interchangeably called pre-mixed or wet batch plant concrete. This one is particularly important in the ready-mixed concrete industry as the concretes are produced from central mixing plants. This ensures the quality of concrete and the balanced ratio of all essential components are maintained throughout the production process until it reaches the construction site. And to support its production, different types of mixing plants are employed, including a plant-mounted mixer as well as a stationary mixer that maintains the proper mixing condition of the concrete. Many concrete manufacturing companies even in Bangladesh are now using this state-of-the-art technology to come up with the finest central ready-mixed concrete.
The basic principle of this method of concrete mixing is rather streamlined compared to its counterparts. Here, the concrete materials are discharged into the central stationary plant for mixing before being loaded into the drum mixer. The drum mixer here only acts as an agitator for subsequent mixing after the main plant while driving it to the destination. Apart from a typical truck mixer, non-agitating haul units or dump trucks are also used to deliver the mixture to a short-distance location.
Even though central-mixed plants are expensive, difficult to maintain, and require expert personnel to operate, this method is far more advanced and well monitored compared to transit mixed concrete. Not to mention that the quality of mixed concrete can be constantly assessed throughout the process, which can't be done with any other types of ready-made concrete. In addition to that, central-mixed concrete also offers benefits, including fast batching and reduced use of drum mixers. Ergo makes it a cost-effective approach, among others.
Conclusion
In a nutshell, ready mixed concrete has come a long way since its first reveal, and its increased use has not only been the biggest contribution in the concrete industry, but it allowed the most diversified application of RMC to different scenarios of building construction today. All thanks to available different types of RMC production and supply methods.
F.A.Q
What RMC type is mostly used in Bangladesh?
Ans: Considering the demand and nature of projects, the majority of engineers and developers use transit-based RMC in Bangladesh.

Which ready-made concrete one should use?
Ans: This solely depends on the required criteria of a development project. Based on different construction projects, different types of RMC may come in handy.

Is there any RMC that favors the small developing projects?
Ans: For small-scale development projects, transit mixed concrete is said to be the most suited one.

Does Bangladesh possess all the different kinds of RMC?
Ans: Even as a developing country, companies like "Mir" manufactures most of the market-dominant Ready Mix Concrete like transit mixed concrete as well as central mixed concrete.

Do general customers have the freedom of choosing the right RMC product for their needs?
Ans: Yes, customers can choose their desired RMC product as the manufacturer provides a wide range of packages for a variety of construction purposes.