Finally, you've made the decision to take a leap of faith and invest your hard-earned fortune in a home of your own. Now, prepare for the satisfying and thrilling experience of the initial building process of your home as you start closing the chapter on the very first phase of planning your homeland obtained; dream house layouts designed; building permits in hand; and the contractor hired.
A home is a lifetime investment. Choose carefully.
What comes next? The stressful phase of finding the perfect materials for your dream construction project. Understandably, you want to get the most bang for your buck. So, you did your homework and decided to go for the most versatile and dynamic concrete solution out there, Ready Mix Concrete or RMC. 
Why Should You Choose Ready Mix Concrete?
The main reason ready-made concrete is so widespread is that any local concrete provider can make concrete batches tailored to the project that is accurate in terms of texture, measurement, and ingredients. This on-demand benefit of ready-made concrete may appeal to both small and large-scale project developers. Ready-made concrete is made up of particular proportions of rock, cement, sand, and water. The exact ratios of these ingredients vary depending on how the product will be used, the climate of the project site, and several other relevant factors. The process of making ready mix concrete begins in a local batch plant. The ingredients are brought together and blended in this stage to get the desired texture, after which it is transported to the construction site in a specially designed truck known as a transit mixer, in which the concrete is kept under rotational movement until it is deposited into the construction site.
Ready-mix concrete promises a longer lifespan and is more durable. By exploiting standard mixing practices and incorporating state-of-the-art experimentations, expert suppliers of ready-made concrete in Bangladesh can ensure consistency and quality in the manufactured product. Because RMC is ready-made and consistent in ratio, it eliminates the hassle of manually mixing the components such as cement, sand, gravel, and other additives on-site. It saves time by avoiding such time-consuming processes. Another important factor in the popularity of ready-mix concrete is its sustainability. With the threats of global warming and climate change escalating, it is high time to invest in renewable and contemporary solutions. When compared to its traditional equivalents, RMC is a more environmentally friendly option. However, before making your first order for ready mix concrete for any sort of construction project, there are a number of factors to consider and precautions to take to guarantee that the project goes as planned and gets the required outcomes.
Consider these Factors Before Ordering Ready Mix Concrete
The ready mix concrete is opted for to prevent difficulties like weak workability, issues with segregation and bleeding, inappropriate water-cement ratio, and insufficient mixing time involved with using traditional mixing practices. Each batch of ready-mix concrete is generally tailored to the contractor's demands. But a good ready mix product is also influenced by a few variables. To get the appropriate mix, you must do your homework and communicate clearly with your concrete supplier, Mir RMC. Knowing what kind and how much concrete to use can save you money, time, and headache.
Project objectives
There may be several different application areas in a construction project, and there is no one-size-fits-all RMC mix that will work for all of them. Determining the objective of the concrete is critical to ordering the appropriate type. The appropriate RMC mix may significantly reduce the cost of the project. Some projects call for a quicker setting mix, while others call for a slower setting mix. Colors, ornamental aggregates, fiber reinforcing, and admixtures like accelerators and corrosion inhibitors must be considered in advance to design the proper RMC mix for the project.
So, it is essential to specify your particular needs and pick the optimal mixture for your project. When planning your project, consider factors including workability, durability, grade, and compressive strength. You must inform the local RMC supplier about the project's location, time of requirement, quantity, budget, and objective.
Understanding the basics of concrete mix
Knowing the basics of RMC mixes can help you collaborate with the supplier to optimize the right mix for the project. Being informed about the thumb rules and the possible obstacles can be a great aid in figuring out what's wrong with the standard composition provided by the supplier and how to alter the composition to create a mixture that properly meets your demands.
Amount of concrete required
Before placing an order for a batch of RMC mixture, determining exactly how much product your project will require is necessary. Ready-mix concrete will arrive on-site in the quantity specified, so be sure to order the correct amount. An excessive product might lead to waste and extra costs. Similarly, ordering less than needed for the project can cause delays until you get the required quantity. Concrete is generally calculated in cubic yards, and many websites offer concrete calculators to assist you to figure out how much you need. Ask your provider for estimation after measuring the area to be filled.
Ordering excess RMC than required
In order to account for the possibility of errors and accidental spills, it is advised that you purchase approximately 5%–10% extra product than you originally estimated. It allows you some breathing space rather than putting pressure later on. It lowers the likelihood of wasting time by requiring you to place another order afterward.
Ready-mix concrete is made up of aggregates, admixtures, cement, and water, among other ingredients. The raw materials that are being used must be of the highest quality. The source of each of these substances will have an impact on the overall quality of the material. A renowned supplier like Mir RMC will employ high-quality raw materials in their plant and will be transparent of their sources. These ingredients may come from various sources. Not all sources deliver high-quality content. You must evaluate the supplier's sources before placing your order.
The desired density of the product
Depending on the project type, the required density of RMC may vary. To ensure the best outcome, proper analysis is required for determining the optimum density for your project. For establishments that will require the concrete structure to withstand the heavier load, the product density needs to be higher. For example, car parks need to support substantially higher weight compared to footpaths. So, it is obvious to employ a denser RMC mix when building car parks. 
Grade of concrete and Compressive strength
The concrete grade is assigned as per the product's composition and strength. Grades are measured in megapascals, or, MPa. Higher grade indicates that the product is well suited to support more pounds per square inch or PSI. Each grade of RMC such as M10, M14, M20, M30, M35, and M40 has distinct properties and qualities that determine its compressive strength. Concrete compressive strength is a fundamental concrete feature, that has an influence on several other properties of concrete required for maintaining concrete hardened and solid.
For example, M5 concrete has a compressive strength of 5 MPa or 725 psi. M20 (20 MPa/2900 psi), for example, is composed of cement, sand, and aggregate in a 1:1.5:3 ratio, respectively. M10 grade is ideal for walkways, patio slabs, and non-structural projects. M15 is used for floor blinding, whereas M20 is used for residential floors and foundations. M35 is a heavy concrete mix used to construct commercial buildings, exterior walls, and slabs. Notifying your provider of the concrete's purpose can assist them offer a suitable grade of concrete.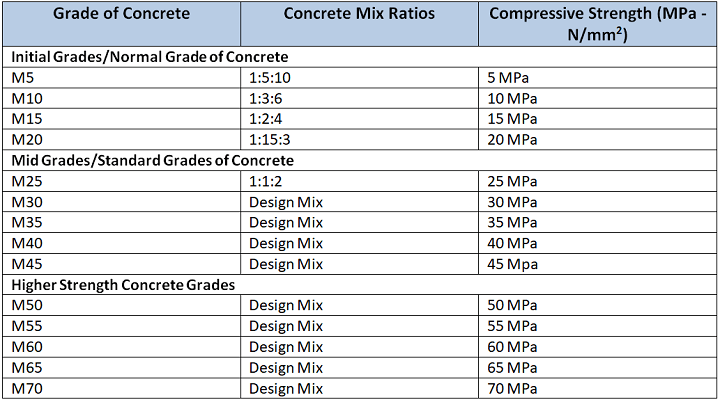 Required durability and workability of concrete 
Concrete workability is important for hassle-free placing throughout the construction process. Factors that influence concrete workability include the volume and areas to be filled, concrete transportation, unloading, and placement techniques. When installing concrete in a tight and tricky area with multiple corners and inaccessible locations, high workability concrete is required.
Concrete durability refers to the capacity and strength of concrete to survive adverse and destructive environmental conditions. Highly durable concrete can provide strength to any building, bridge, or construction project. The water/cement ratio has a considerable impact on durability.
Required level of moisture
The required amount of moisture in the RMC mix should also be taken into account. It is important to note that the higher the moisture content of the mix, the smoother it is to spread; nevertheless, they generally take longer to dry. You will need to discuss with professionals to select a moisture level before ordering the mix from your supplier. However, an important tip is to always choose a drier mix over a wet mix, as you can always add more water if necessary. 
Using different admixtures depending on the project type is a regular practice in mixing concrete in order to modify concrete properties such as workability and durability of the mix. Admixtures such as air entrainers, set accelerators, corrosion inhibitors, or water reducers need to be chosen wisely. 
Some admixtures include chlorides, and if so, the quantity of chloride content in percentage of the total mass of the admixture must be known. The high chloride content in ready-mix concrete causes corrosion of the reinforcement steel, reducing the service life of the structure. Hence, such admixtures should be avoided wherever possible. Communicating with a ready mix supplier will also assist you in getting recommendations on the best admixtures to use to improve the concrete's performance.
Avoiding excessive use of fly ash
The percentage of fly ash in the concrete must be known before ordering a batch. Some RMC manufacturers use a lot of fly ash in their concrete, which isn't recommended by the regulations. Normally, fly ash is added to concrete by the manufacturers in amounts ranging from 15% to 25% of the mass of the cementitious component in order to reduce production costs and increase profits. Therefore, it is advisable to avoid purchasing RMC at a cheaper rate and avoid being cheated.
Taking the concrete delivery time and unloading time into account
Make sure everything is ready for the concrete delivery and pouring. The concrete truck should be able to quickly access the building site, which should be well prepared to avoid delays.
Once mixed, the concrete must be poured within a certain time frame. If the mix is not utilized within that time range, the batch may be lost. According to standards, ready-mix concrete should be poured within one and a half hours after loading at the central batching plant. To avoid traffic jams and accidents, heavy vehicles are banned from entering the city during peak hours. So, if you reside in such a metropolis, you must schedule concrete pouring according to traffic restrictions. Moreover, unloading big quantities of concrete from a truck takes time, and some companies charge for this time. Each cubic meter takes roughly five minutes, so make sure you have a powerful concrete pump on hand.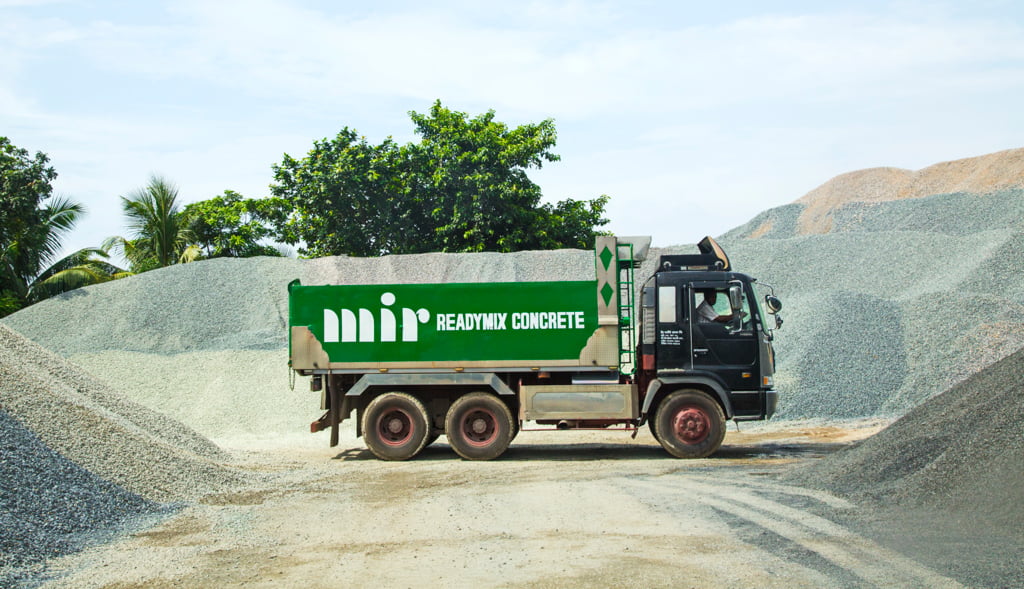 The timeframe you have before the concrete begins to cure is the time you have to spread and modify the mixture to suit your objectives, and it is typically influenced by weather conditions. The time it takes for ready mix concrete to start curing is usually one and a half hours, but it might be as low as an hour in hot weather. 
Hiring the Best Ready Mix Concrete Supplier in Bangladesh
Concrete is, of course, a vital component of every construction project. So don't compromise on your concrete supplier selection. Buying from a reputable ready-mix concrete supplier like Mir ensures excellent products, eliminates the anxiety of costly errors, and benefits from their years of expertise. A reputable RMC provider will have its own batching and mixing facilities, testing laboratories, and transport facilities.
A good strategy to find a reputable concrete supplier in your neighborhood is to check online reviews. Get estimates from several firms and compare them before deciding. Evaluate companies that provide high-quality concrete and services at reasonable costs.
Using a local source helps save transportation expenses. The expenses increase with distance from the ready mix plant. Choosing a supplier distant from the construction site also means waiting longer for the concrete batches to arrive. On average, RMC should be batched and delivered to the job site in an hour and a half. So, you need to find suppliers near your construction site.
The selected supplier should also have a convenient communication system and be welcome to any feedback or questions. Without a doubt, getting the right concrete mix for your project requires effective communication with your supplier.
Ensuring on-site quality control
There are several testing methods to assess the degree of quality control of the concrete. When the product arrives on site, those testing methods can be used to assess its quality. It is required by regulations that ready mix concrete manufacturers have test facilities on their premises to conduct regular tests such as concrete slump testing, concrete cube testing, and others, so that, you can double-check the workability and strength of the ordered product.
Follow-up and maintaining contact
After selecting the best ready mix option for your project, be sure to double-check the order. Don't forget to check the intended delivery date, the required admixtures, the volume, the address of the construction site, and contact information. Confirm the pricing if it complies with your budget to avoid any billing confusion later on. Maintaining communication with the supplier throughout the construction process might help to minimize any unintentional mishaps.
Summary
Choosing an RMC product might be a challenging task due to the technicalities involved, particularly if you've never done it before. However, this guideline should be able to assist you in selecting the appropriate type and quantity of concrete for your project. Mir RMC is the country's major manufacturer for both residential and industrial clients. Mir RMC promises to be in touch with project stakeholders from start to finish of the project, to guarantee on-time delivery.
F.A.Q.
How long does it take for ready-mix concrete to harden?
Ans: Ready-mix concrete begins to harden as soon as the water is applied. Usually, the concrete will need to be poured and leveled within one and a half hours after loading at the central batching plant.
Is Mir ready to mix concrete of a high standard?
Ans: Yes. Mir Ready Mix Company, being a leader in the industry, ensures consistent quality and satisfaction. Our products are ISO certified and formulated in accordance with the government guideline.
What are the ingredients used to make ready mix concrete?
Ans: The fundamental ingredients of ready mix concrete are cement, sand, water, and aggregates. Additional materials like reinforcing fibers, admixtures, or entrainment additives, may be added depending on the customer requirement.