The notorious tropical summer is almost here. While the thought of spending hours sweating and struggling in the scorching summer heat is working you up, you are secretly wishing to take refuge in cold water when the time comes and wash away your fatigue. Unfortunately, access to a waterbody or even a public swimming pool in Dhaka is very limited. And don't deny it; you have fantasized about a swimming pool in your backyard at some point or another. You only live once, and maybe it is time you shed off your hesitation to finally do what you've always wanted to do: get your own pool.
Sure, building your own swimming pool is a luxury. However, you may save money on your electric bill by plunging into the cool water of your own swimming pool rather than shutting yourself in your air-conditioned home on hot days of summer. Moreover, an attractive swimming pool is not just a waterbody. It can have an artistic effect on the landscape of your courtyard. Your personal swimming pool can be transformed into a tranquil oasis in your backyard with the addition of water features such as waterfalls or infinity edges. On top of that, a swimming pool can be a significant contributor to a healthier lifestyle: a good source of entertainment, an opportunity for family time, and more physical activity.
However, before you go any further with the construction of your pool, be sure to plan carefully when picking the material for your pool decking – the factor that can make or break the deal.
Choose the Best Pool Deck Material
Nothing compares to the comfort of a cool dip in your own swimming pool in the hot summer months. Though having water in your pool is the main attraction, poolside amenities and furniture can change the ambiance of your backyard, offering an excellent spot for family and friends to rest and dine. The surrounding area of your pool, known as the pool deck, is where you'll put those outdoor chairs and tables, or any other decorative items you want. The addition of a pool deck also helps to improve the overall safety around your swimming pool.
While designing a swimming pool deck, one of the most difficult choices would be selecting the building materials. Consider variables such as pool location and layout, cost, safety, maintenance, and durability, among others, when assessing your options for pool deck materials. A well-built pool deck is almost as essential as a well-designed swimming pool itself. Without thorough consideration of your alternatives, you will probably end up with something that demands more maintenance than you're prepared to deal with, leading to costing more in the long run.
Pool decks may be constructed from a wide range of materials. Concrete has long been the preferred material for pool decking. Alternative materials such as wood, bricks, or tiles are also popular. However, remember that many of these materials will provide a surface that won't meet your particular demands for the pool deck. You must consider the properties of the construction material before making your selection. Some items, like wood, may decay with time and need more maintenance. So don't fall prey to the temptation of buying the cheapest material out there. Considering all the factors, concrete is regarded as the most modern solution for pool decking. Other pool deck materials can not compete with it in terms of design flexibility, strength, and long-term durability. And without a doubt, among the several concrete types, ready-mix concrete, also known as RMC, provides the most benefits for any construction project. Using ready-mix concrete to build your pool deck is a cost-effective and time-saving alternative that also reduces carbon footprint while delivering higher-quality and longer-lasting results. If you are looking for a stress-free concrete solution for your pool decking project, look no further than ready mix concrete.
Benefits of RMC in Constructing Swimming Pool Decks
Superior Quality and Durability
When selecting materials for your swimming pool deck, make sure that the quality of the deck is the top priority. There are several benefits to using ready-mix concrete for your pool deck, but the most obvious one is the superior structural quality it provides. RMC is manufactured in batching plants, suited to the project in terms of texture, measurement, and ingredients. Maintaining accuracy in ready-mix concrete is relatively simple since it is made in a single batch and in a controlled environment. It is made up of a specific proportion of rock, cement, aggregates, and water. Thanks to the exact ratios of these ingredients that gives the final product a superior finish ensuring a strong, durable structure. 
Because of its unmatched strength and durability, it can withstand any kind of bad weather and a lot of wear and tear. RMC has a considerably longer lifespan than other building materials, like wood or bricks, so you won't have to worry about it needing to be repaired in the near future. Moreover, it resists stains and scratches, which helps to maintain the look of the deck throughout its lifespan. These features help keep the pool in use and make it more fun for a long time. Concrete pool decks that are well-maintained may last up to 50 years or more and even boost the value of your property.
Slip and Water resistance
It is very crucial to have good traction on pool deck surfaces, which is why slip resistance of the building material is a major priority. Even though tile and other pool deck materials may become slippery when wet, concrete is relatively slip-resistant, making it an excellent option for a pool deck. Moreover, there are numerous methods for improving the surface traction of concrete without ruining the aesthetic, which may be used to provide an additional layer of safety if desired. Broom finishes or exposed aggregate treatments may be used to achieve textured overlays. It doesn't matter what kind of aesthetic you like; these aggregate-based finishes are available in various sizes and colors.
Another benefit of ready mix concrete when it comes to pool decks is that it is almost waterproof. In a situation where there will be a lot of splashing and exposure to moisture, this is an excellent feature to have. Moreover, with regular care, you won't have to worry about your concrete pool deck being adversely affected by water in the future, even if it is cracked or sun-damaged.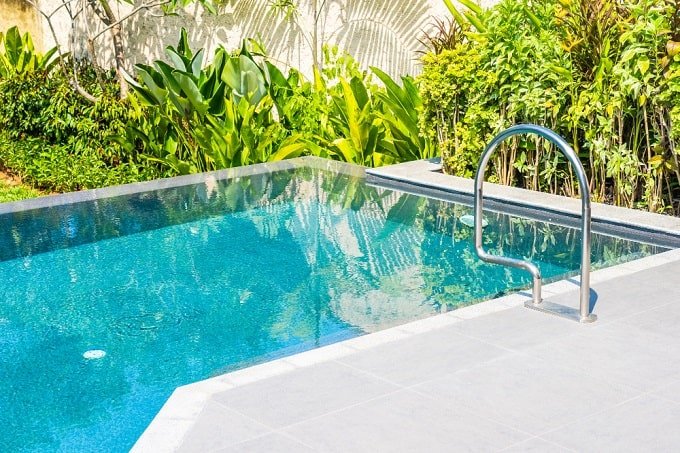 You should choose a material that will keep the surface cool in hot weather. It is important that the material won't absorb extra heat since being bare feet on the pool is a common practice. Walking should be safe for anyone using the pool since nobody wants to burn their soles on hot surfaces. Because it reflects sunlight, concrete pool decks are cooler under bare feet than darker-colored brick and tile ones that may become unbearably hot when exposed to the sun.  It is also possible to lower the surface temperature of the concrete deck by using decorative overlays.
In order to create a big deck around a swimming pool, which is actually the trend, you will need more material than you would need for a smaller one. Ready-mix concrete from a local supplier can be a far cheaper decking material than flagstones or tiles in those cases.  A deck may now be added to your backyard oasis without blowing through all of your remaining funds on the pool. Because ready-mix concrete does not rely on unnecessary guessing when it comes to deciding how much concrete is needed, it saves time and money. Waste may be reduced to a minimum if an accurate estimation is being used. Flagstone or tile pool decks look great, but they can be very expensive to build because of the labor it takes to put each piece in place. Pouring concrete straight from the pump can easily save that money, rather than laying each stone or tile unit by hand. By combining beautiful textures or overlays on the concrete surface, you may still achieve great results on a little budget. Concrete may save you up to 50% on the cost of your pool deck.
Access to versatile designs
Despite what you may believe, concrete doesn't have to be dull and gray, and it doesn't have to seem like a construction site. Another benefit of ready-mix concrete is that it can be shaped into a wide range of patterns and forms. Using ready-mix concrete, you can have any design you want. Ready-mix concrete is an excellent construction material, regardless of whether you are going for a modern or conventional look. With ready-mix, it is possible to create a variety of shapes and sizes as well as built-in seating and stairs.  For example, to get a broom finished concrete, you just have to drag your broom across the freshly-poured concrete surface. Simply doing this can give it a beautiful appearance and feel. The best thing about ready-mix concrete is that you can make it appear like almost anything. Colors, releasing agents, and stamps all can be used to replicate any distinct look into the wet concrete when using stamped concrete. Trying to achieve that stone or wooden appearance? Ready-mix concrete is the answer!
Concrete decks are a great alternative for busy homeowners who want to relax in their backyard without having to put in a lot of effort to maintain it. You don't have to invest a lot of time to take care of it; sweeping up small debris like fallen leaves is all that is needed. This lets you enjoy it to the fullest without fear of being overrun by maintenance costs. Every available material demands more services than does concrete. With bricks and paving units, releveling or replacement after a period of time may be needed as they can shift over time. In order to keep weeds from growing in the joints between the paving pieces, they must be routinely filled with sand. Moreover, brick is prone to mold growth, which needs to be cleaned off with routine maintenance. These hassles may be avoided by using ready-mix concrete, which only needs minimal maintenance to maintain its appearance.
Summary
In terms of both aesthetics and utility, having a swimming pool in your home is an excellent idea. However, there are additional long-term expenses associated with owning and maintaining a swimming pool. Due to its proneness to deterioration, repairs and replacements may cost a lot of money over time. So, before constructing a pool, better be prepared by selecting an aesthetically pleasing, and functional material that will last for many years to come. Aside from being the most cost-effective, versatile, and eco-friendly, pool decks made of ready-mix concrete are often regarded as the most long-lasting alternative. With this in mind, Mir RMC recommends purchasing ready-mix concrete from a reputable provider like them to construct an attractive pool deck so that you can spend some quality time resting until the summer heat fades away.
F.A.Q.
Why should I prefer Mir RMC over any other RMC supplier for constructing my swimming pool deck?
Ans: To assure the durability of a swimming pool deck, only a reputable concrete supplier like Mir RMC can meet the specific requirements needed to build it.
Can ready-mix concrete reduce the possible hazards associated with swimming pool decks?
Ans: Yes. While running or playing over the deck of a swimming pool, your child won't trip over since ready-mix concrete is an anti-slippery material.
How much maintenance is needed for concrete pool decks?
Ans: Due to its unique structural qualities, a concrete pool deck demands minimal maintenance compared to other available materials. 
What are the options to alter the concrete surface of a pool deck?
Ans: Concrete pool decks may be tinted or textured to seem like wood or stone, allowing for a wide range of design options.
What factors to look for when ordering ready-mix concrete for my pool decking project?
Ans: There are a few things to keep in mind when placing an order for ready-mix concrete. To learn more, check out this in-depth article.